The US has ended Covid-19 border restrictions that blocked many migrants at the border with Mexico, immediately replacing the so-called Title 42 restrictions with sweeping new asylum rules meant to deter illegal crossings.
Secretary of homeland security Alejandro N. Mayorkas said on Thursday evening that 24,000 border patrol agents and officers had been sent to the border to enforce US laws, adding "the border is not open".
"Starting tonight, people who arrive at the border without using a lawful pathway will be presumed ineligible for asylum. We are ready to humanely process and remove people without a legal basis to remain in the US.
In the hours before the new regulations went into effect, thousands of migrants waded through rivers, climbed walls and scrambled up embankments on to US soil, hoping to be processed before midnight.
In Matamoros, Mexico, groups crossed the Rio Grande River in chin-high water. Some carried tiny babies and bags of belongings above their heads to make it into Brownsville, Texas.
In El Paso hundreds of migrants camped out on downtown streets trying to figure out where to go next after crossing the border from Juarez, Mexico.
The first moments of the end of Title 42 in Ciudad Juárez, Mexico, were met with silence.
It was almost as if nothing had changed for the 500 migrants hoping turn themselves in to US authorities outside Door 42, a gate along the border barrier in El Paso, Texas.
The group had been waiting since late afternoon, surrounded by Texas National Guard and Border Patrol agents, and entrapped by barbed wire.
Throughout the afternoon and into the night, small groups were slowly allowed into the country, while the rest stood by.
The hot afternoon grew colder as soon as the sun set. With no belongings, many struggled to keep warm. Their only option: dust-filled blankets, jackets, and sweaters that migration authorities provided from a dumpster.
The sudden policy shift threatened to put a historic strain on the nation's beleaguered immigration system.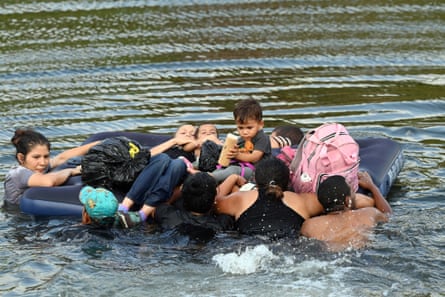 US Customs and Border Protection (CBP) has in recent days been holding up to 28,000 migrants at its facilities, far beyond its stated capacity and in what appeared to be a record, two federal officials requesting anonymity and the Border Patrol's union told Reuters.
Donald Trump, an anti-immigration hardliner, implemented the Title 42 public health rule in 2020 when the pandemic hit, but it was continued and even expanded by Joe Biden, despite campaign promises of a fairer and more humane system at the border. The policy has faced court battles and criticism from left and right.
The order authorised border officials to immediately remove migrants, including people seeking asylum, overriding their normal rights. The Biden administration announced in January it was ending the declared national emergencies linked to the coronavirus spelling the end of using Title 42 to deal with immigration.
As of midnight Friday, migrants will be allowed to request refuge again when they approach official border ports of entry – but the Biden administration plans to speed up initial interviews by agents to decide who has a case to take to court, prompting immigrant advocates to complain that a rushed process will be unfair.
The new rule presumes most migrants are ineligible for asylum if they passed through other nations without first seeking protection elsewhere, or if they failed to use legal pathways for US entry, which Biden has expanded.
Immigration advocates represented by the American Civil Liberties Union (ACLU) filed a legal challenge against the new regulations on Thursday, minutes before they took effect.
The groups said the Biden regulation "dramatically curtails the availability of asylum in the United States" and mirrored similar Trump-era policies blocked in court.
The busiest border detention facilities are in the Rio Grande Valley and El Paso in Texas and two areas in Arizona, according to border patrol union president Brandon Judd.
This week, the number of people caught crossing illegally topped 10,000 a day. Due to the high volume of arrivals, agents on Wednesday began releasing some migrants without a notice to appear in immigration court where they can make an asylum claim, telling them to report to an immigration office later, Judd added.
On Thursday night, a federal judge in Florida blocked such releases, saying they were similar to a policy previously prohibited in March due to a failure to follow proper regulatory procedures. CBP did not respond to a request for comment.
There are fears of fresh chaos and confusion and misery for migrants at the mercy of complex policies – on paper or in the various ways they are implemented on the ground.
Earlier this week, Mayorkas said the new rules would mean tougher consequences for migrants crossing illegally, who could be deported and barred from the US for five years if they do not qualify for asylum.
He warned migrants: "Don't risk your life and your life savings … do not listen to the [human] smugglers' lies – you will be returned … we are a nation of immigrants but we are also a nation of laws."
Republicans fault Biden and have made immigration a big topic in recent elections, with right-wingers continuing to use Trump's language as president and talk of migrants as "an invasion".
Biden administration officials have escalated attacks on Republicans, saying they failed to fix immigration laws or provide adequate border funds, while refusing to pass legislation giving more orderly routes to eligibility for US citizenship.
"I asked the Congress for a lot more money for the border patrol," Biden told reporters on Wednesday. "They didn't do it."
The Republican-controlled House of Representatives was aiming to pass a hardline bill on Thursday that would further toughen border security and restrict access to asylum, but it has little chance in the Senate.
Source: The Guardian