El Paso, Texas — A record increase in unauthorized arrivals along the U.S.-Mexico border and the end of Title 42 border restrictions have left local officials and volunteers worried about their ability to help the new arrivals, and migrants confused about how the looming shift in U.S. policy will affect them.
This week, Border Patrol processed more than 10,000 migrants each day across the southern border, setting all-time records for 24-hour periods, a senior Department of Homeland Security official told CBS News. On Wednesday, more than 20,000 migrants were in Border Patrol custody, prompting officials to authorize the quick release of some migrants found not to be a threat to public safety or national security.
U.S. officials have attributed the sudden jump in migrant crossings to the fast-approaching end of the Title 42 pandemic-related restrictions, which expired at 11:59 p.m. EST Thursday. The rule has allowed U.S. border agents to cite public health concerns to quickly expel some migrants without allowing them to apply for asylum.
In border cities like El Paso, which has seen hundreds of migrant arrivals daily in May, the spike in migration has even alarmed volunteers and humanitarian workers who support welcoming and helping asylum-seekers. The city is also planning to convert a vacant middle school into a temporary shelter for migrants.
"I'm not even sure I would use the word concerned. I'm scared," said John Martin, who runs a network of shelters in El Paso. "And I'm scared because of the sheer number of people that could potentially be involved."
"It's difficult to prepare for the unknown," he added, speaking inside a makeshift tent encampment that his staff at the Opportunity Shelter for the Homeless set up to house migrants who could not be accommodated in their over-capacity shelters.
Confusion and anxiety among migrants on both sides of the U.S.-Mexico border was also palpable amid a web of complicated and constantly changing U.S. policies. In Ciudad Juárez, Mexico, migrants living in tents and shelters are weighing whether to cross into the U.S. without authorization after Title 42, or to continue waiting for appointments to enter the U.S. legally that the Biden administration is distributing through a phone app.
Saira Hernandez, who left Nicaragua with her 8-year-old daughter five months ago, said she was expelled to Mexico after trying to seek asylum in the U.S. She said the end of Title 42 could be "beneficial," but also noted she fears being deported if she tries to cross into the U.S. again.
"If we turn ourselves in again, they could send us right back," Hernandez said inside the Stellar shelter in Ciudad Juárez. "The first time I was sent back [to Mexico], I felt desperate. I was in a country I did not know with a child."
Hernandez's concerns are justified. Under a policy the Biden administration plans to enact after Title 42 expires, migrants who enter the U.S. without an appointment will be ineligible for asylum if they did not first seek refuge in Mexico or another country. Migrants like Hernandez could face deportation to Mexico, which has agreed to accept Cuban, Haitian, Nicaraguan and Venezuelan deportees from the U.S.
For now, Hernandez said she will continue trying to get an appointment to be processed at a port of entry through the U.S. government app, known as CBP One. She's been trying to secure an appointment every day she's been in Mexico, she added, to no avail. Still, Hernandez said she has hope.
"We try to do things the right way," she said.
Other migrants stranded in Mexico like Dora Ramirez are less hopeful. "We have been waiting for an appointment for two months, and we only get error messages," the Nicaraguan mother said. "There is no hope."
Seeking asylum in Mexico, she said, is also not an option for her because of how dangerous cities like Ciudad Juárez are: "We don't really go out because many tell us it is dangerous, that we could be kidnapped."
Migrants in El Paso consider themselves lucky to be on American soil. But many of them entered the U.S. unlawfully without being apprehended by Border Patrol and don't have official government documents, including court notices, that allow them to travel freely within the U.S.
Gregorio Xiloj Cutz, who had been sleeping at the Sacred Heart shelter in El Paso with his 5-year-old son for the past three days, said he left Huehuetenango, Guatemala, last month due to death threats.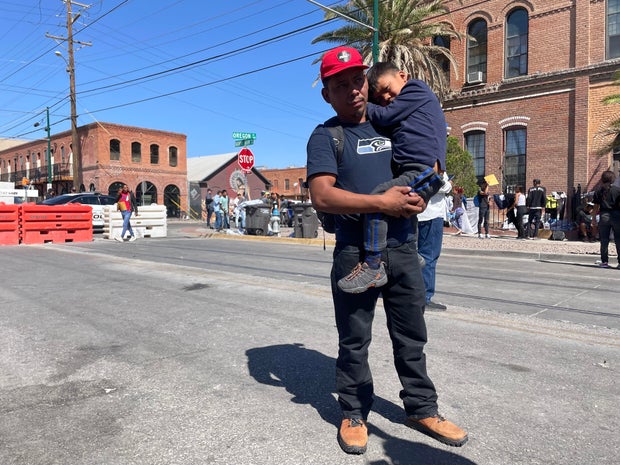 "We were extorted," Xiloj Cutz said. "We were told that if we did not give them the money, that they would kill us or kidnap my son."
Xiloj Cutz said he crossed into the U.S. without being apprehended by Border Patrol, which is swiftly expelling many Central Americans to Mexico or their home countries. His objective is to go to Atlanta, but he's been stranded in El Paso because he does not have official government documents that he could use to travel without the fear of being arrested.
"I'm worried because I don't have a permit to travel," Xiloj Cutz added, saying he's scared his family could be taken into custody.
Earlier in the week, federal officials warned migrants who entered the U.S. surreptitiously and were sleeping on the streets of El Paso that they could face arrest and deportation if they did not report to the main port of entry there.
As 23-year-old Aidele Gonzalez lined up alongside her partner and scores of other migrants outside the Paso del Norte port of entry to be processed by Border Patrol agents, her main fear was being returned to Mexico.
"We were persecuted in Mexico. I was kidnapped there," Gonzalez said in Spanish. "And I don't want them to send us back. I'm scared."
After fleeing Venezuela's economic collapse and undertaking a journey across over half a dozen countries in Latin America, Gonzalez said she and her partner were kidnapped in Mexico by cartel members and held for five days without food. Her kidnappers, she said, wanted her family members to pay a ransom for her release.
Despite their concerns, the young couple said they decided to turn themselves in to get documents that would allow them to travel within the U.S. while their cases are reviewed in immigration court.
Citing their kidnapping in Mexico and concerns about being deported there after surrendering themselves to U.S. officials, Gonzalez's partner, Jose Chavez, said their search for the American dream had turned into a "nightmare." 
Source: CBS News